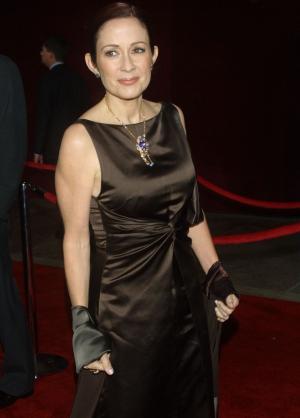 EMMY TALK:Tom O'Neil :
Heaton is back with another smart entry: she battles her pesky mom-in-law over a canister she insists she returned after borrowing. It's good enough to give Heaton another Emmy, especially when she realizes — oops — she still has the canister but can't fess up because "For once she respected me enough to apologize!"
Diane Werts : The "Raymond" roll continues. Patricia Heaton's episode — in which she insists she's returned a beloved canister to guilt-jobbing Marie, although it later turns up in her own house — gave the actress the chance to do absolutely everything: dramatically feel hurt, angry, guilty, touched; comedically play panic, desperation, revenge, sarcasm. Heaton delivered in one half-hour everything her put-upon wife has been doing superbly over the course of five mostly unsung seasons. She's hard to beat.

Tom Conroy : These are five great nominees who all submitted fine episodes. I think Patricia Heaton's performance was the best from a pure acting standpoint (of course, she stands out among a cast of over actors and nonactors).
Red carpet: Chocolate brown satin Valentino gown with matching shawl and multicolored necklace from Rafinity.
Presenting with Ray Romano: During his turn at the mike with Patricia Heaton, Everybody Loves Raymond prankster Ray Romano traded standard-issue patter for a script prepared by his two eight-year-old children in which he revealed to his leading lady that, to keep the kids from worrying about him kissing a woman other than Mommy on TV,"I kind of tell them you have a weiner!"
Winning her second consecutive Emmy:  Patricia Heaton, who won the trophy for actress in a comedy series for her role on "Everybody Loves Raymond," said her emotional acceptance speech resulted from a feeling that built through the night and peaked when her co-star Doris Roberts took the trophy for supporting actress.
In her acceptance speech, Heaton acknowledged the role entertainment plays in helping Americans cope with the tragedy of Sept. 11. "I'm so happy to be, at this time in our country, part of a show that helps give laughter," she said. She expressed her gratitude to the men and women of the armed forces defending the country  "I want to dedicate my performances this year," she said, "to those people and their families." adding that their sacrifice means "we can sit here and do this."
It's 'backstage' at the Emmys…All the winners said they were glad they showed up, and most were not afraid to discuss the sad events of the day, even on the happiest night of their lives. Here is what some of them were saying:
Patricia Heaton, who announced that she plans to visit Camp Pendleton in December in a show of support for the troops, said she was on her way to a New York talk show when the terrorists attacked the World Trade Center. "It was pretty surreal. My real family was back in Los Angeles, so I gathered with my TV family and we talked a lot and ate a lot."